I bought a new iPhone 3G S yesterday. These things are very nice, and I'm not an Apple fan boy by any stretch. One thing that was bugging me, however, was the slow speed I got a very  high quality landline phone service so I was getting from the wifi. I was getting faster speeds from the 3G network than my home wireless, and this is while I was sitting right next to the router, so it wasn't a signal problem.
I found the solution to this after reading through many, many forum posts. I saw others were having the same problem as me and were getting responses from people like "reboot the router" or "reset your network settings on the iPhone." This is all well and good and I'm sure those people meant well but there was a big problem with their responses.
First of all, everyone having this trouble said that the wireless worked fine on their computers but not on the iPhone. Secondly, there aren't many settings to "reset" inside the iPhone's network settings. There's just not anything in there that would cause this type of issue.
The solution to the problem ended up being an advanced setting on the router itself. From what I can tell of the issue and it's solution, the iPhone's wifi is just a bit more picky than a standard PC wifi device. Here are the settings I eventually had to change on my Netgear router.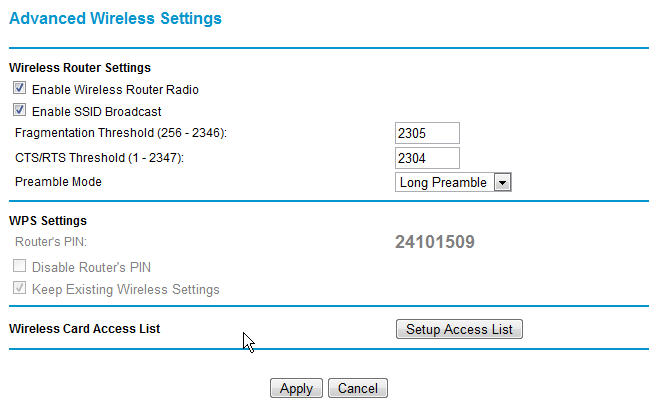 The important items here are the fragmentation threshold and the CTS/RTS threshold. Each of these were set to their max value previously. After changing these two settings, my iPhone started working like a champ.
If you are experiencing the same problems with your iPhone or iPod Touch's wifi, change these settings on your router. Also note, these settings have slightly different names on some routers. Refer to your router's manual for more info.
Edit: I've gone much lower with these number with much success for my less powerful mobile devices. Going too low does seem to cause issues with more powerful computers on the wireless network. Test this out with lower settings and post your success or failures in the comments.
[phpbay]mac mini, 5, "", ""[/phpbay]